They sing in sanskrit, their music is not just notes, but a complete philosophy. Their songs raise deep questions and give deep answers. ATMASFERA represents a new direction in the music industry. New and unique.

WHY ATMASFERA? AND WHAT STANDS BEHIND THIS NAME?
In Sanskrit, "atma" means "person", "spirit soul", and the word "sfera" is this person surroundings. Our music is about the inner needs, the search for something real. Our work is meant to inspire people to ask deeper questions.
AS FAR AS I KNOW, YOU PRACTICE YOGA?
We came across yoga at the age of 18 for the first time, but became truly inspired when we found a real master. Having searched for him in music for many years, we found him in yoga. We started studying this philosophy more deeply, got into the Vedic wisdom which turned our consciousness by 180 degrees. Yoga became an intrinsic part of our life.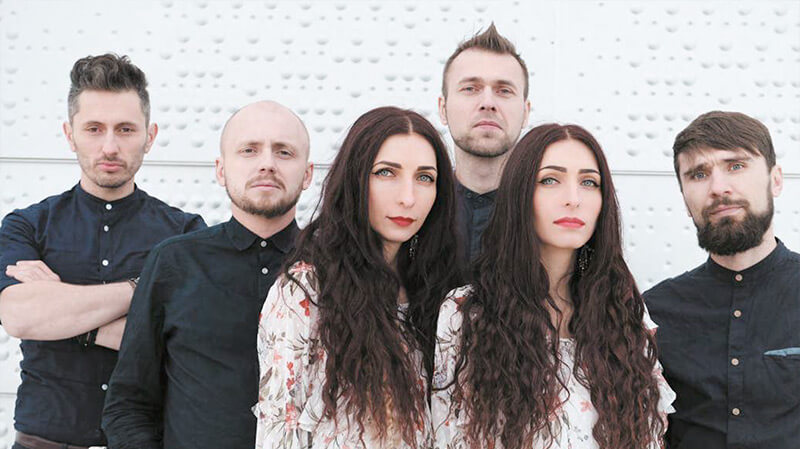 THE OTHER MEMBERS ARE ALSO YOGIS. WAS THIS A REQUIREMENT FOR BEING ACCEPTED INTO THE BAND, OR MAYBE IT HAPPENED BY ITSELF?
ATMASFERA is not just a music band. We are all connected through yoga, vegetarianism, spiritual practices. However it is not a criteria for potential members of the collective. It happened by itself. Each person who came into the group had the opportunity to experience something valuable in the process of creating music with mantras and could determine whether they needed it or not. In order for something truly beautiful and spiritual to be born, all the musicians need to be in harmony. Then there is no need to explain the basic important things to each other because everyone understands the essence. This unity makes our group very friendly, family-like, able to create in harmony and balance.
A MAJOR PART OF YOUR SONGS ARE IN SANSKRIT. ARE YOU FLUENT IN THIS LANGUAGE? WHO WRITES YOUR LYRICS?
The lyrics in our music are mantras and ready poems in Sanskrit. The sounds of mantras work on the level of the heart, not the mind. Our repertoire also consists of songs in English and Ukrainian, which take up around half of all our compositions.
WHICH MUSICIAN IS SPECIAL TO YOU AND SETS AN EXAMPLE?
We are inspired by the attitude of Sviatoslav Richter. He used to say: "I am a servant of music." During concerts Richter remained unseen, while his music filled the space far beyond the concert hall. We aim to not be the center of attention during concerts, but create a powerful feeling in the music, allow people to immerse themselves in a beautiful world. It is a whole art.
PLEASE TELL US ABOUT YOUR INTERNATIONAL EXPERIENCE.
We travel the world a lot with concert tours and it is very interesting to observe the character of the different nations. And they can be very diametrically different: in Kazakhstan everyone is so bright and open, while in Norway they are closed and need their personal space. With our music we try not to only give a person the chance to have an insight into their being, converse with himself, but also unite people through music. Among the places where we haven't yet performed, but would very much like to, England is first on the list.
WHAT ELSE WOULD YOU LIKE TO SHARE WITH OUR READERS?
This year we decided to arrange our tour in a different manner, and now the program "Yoga Day with ATMASFERA" became its inseparable part. After concerts we invite all to this event who want to get to know us in a less formal setting and learn more about the philosophy that we live. This event also includes yoga and meditation classes, music workshops where you can learn to play different musical instruments. We will be happy to see you at our concerts and the Yoga Days that follow them.